Last quarter, we released a number of exciting features across our two products: InspectPro & ServicePro. Read on for our latest features below.
ServicePro: Work Order History on a Unit
View your work order history directly from the units page. Understand the service history on that particular unit, so you can recommended needed service or prep the unit for sale.
ServicePro: Desktop Notifications
Get real-time notifications on your desktop computer for all events on a work order. Quickly see whether someone left you a new comment, your customer responded to a text message, or a new inspection is available.
ServicePro: Reporting
Improve your operations by analyzing service activity across your team. Our new reporting tool shows you:
Total $$$ estimates approved by location (so you can see which of your locations are generating the most service revenue)
# of text messages sent by service writer (so you can see who is communicating the most with your customers)
% of work orders with inspections (so you can make sure 100% of your serviceable equipment is getting inspected)
And more!
ServicePro: Message Templates
Create default messages to send to your customers based on work order status. Save time & ensure your service managers use the same approved language every time.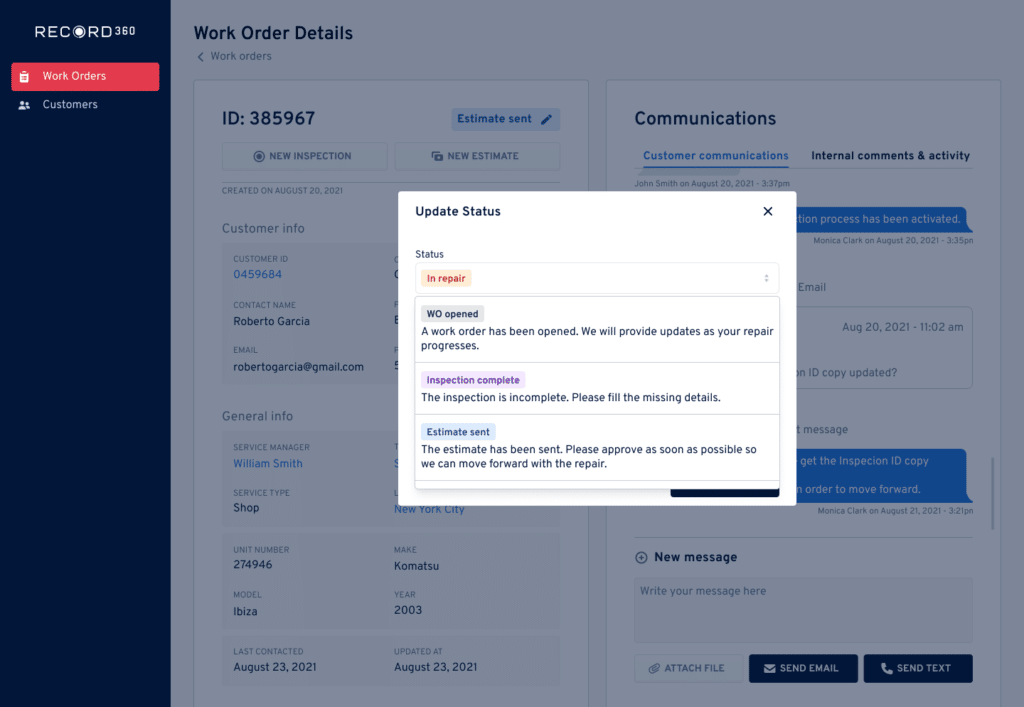 ServicePro: Customer Satisfaction
Automatically send satisfaction surveys to your customers via SMS or email after a work order closes. Use our reports tokeep track of how your scores are trending, so you can see improvement over time.
ServicePro: Other Additions
➕ Add inspections to work orders: Add existing inspections to a work order, so you can quickly track damage claims.
📷 Select media on work orders: Select media and attachments on work orders, so you can have more control over what you send your customers via SMS.
✉️ Custom email templates: Add your company logo & colors to our ServicePro email templates, for a more personalized look & feel.
📎 Attachments on work orders: Attach files to your work orders (like quotes or rate sheets) and send them to your customers via SMS or email.
InspectPro: Enhanced Departments
Departments just got more powerful. You can now run multiple workflows in Record360 at the same time. Need to do a service inspection while a unit is out on rent? No problem. Simply check the unit out with a rental inspection, complete the service inspection when needed, and check the unit back in at the end of the rental. No need to interrupt your rental process.